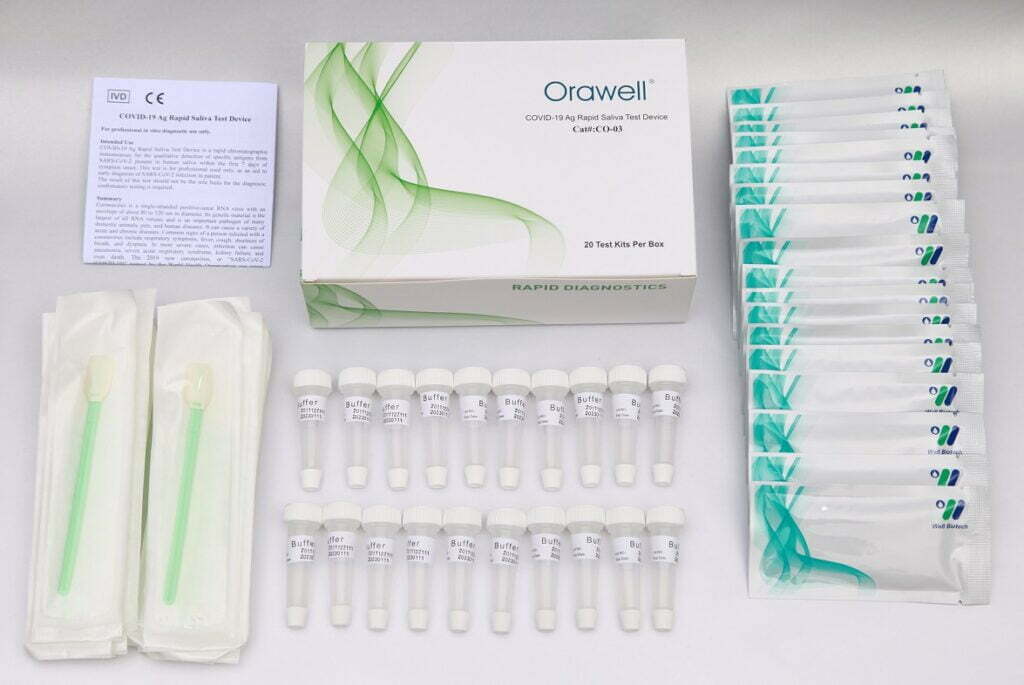 Orawell COVID-19 Ag Rapid Saliva Test Device
COVID-19 Ag Rapid Saliva Test Device is a rapid chromatographic immunoassay for the qualitative detection of specific antigens from SARS-CoV-2 present in human saliva within the first 7 days of symptom onset. This test is for professional used only, as an aid to earlydiagnosisofSARS-CoV-2 infection in patient. The result of this test should not be the sole basis for the diagnosis; confirmatory testing is required.
Principle 
The COVID-19 Ag Rapid Saliva Test Device uses double antibody sandwich immunoassay. The NC membrane pre-immobilized with monoclonal antibodies against SARS-CoV-2 antigen and anti-mouse polyclonal antibodies, and the colloidal-gold conjugated with monoclonal antibodies specific to SARS-CoV-2 antigen. If SARS-CoV-2 antigen present in the sample, a complex formed between the anti-SARS-CoV-2 conjugate and the antigen will be caught by the specific anti- SARS-CoV-2 monoclonal coated on the T region. Results appear in 10 to 20 minutes in the form of a red line that develops on the strip. Whether the sample contains the SARS-CoV-2 antigen or not, the solution continues to migrate to encounter another reagent (an anti-mouse IgG antibody) that binds the remaining conjugates, thereby producing a red line on the region C. 
Kit Content 
1). Test device (individually packed in a foil pouch). 
2). Extraction buffer vial. 
3). Saliva swab. 
4). Instruction for use.
Performance Characteristics
Relative sensitivity: 129/135= 95.6% (95%CI 93.79%~98.66%) 
Relative specificity: 200/200 >99% (95%CI 97.12%~100%) 
Overall agreement: (129+200)/(129+0+6+200)×100%=98.21% (95%CI 96.55%~99.36%) 
CI: Confidence Interval